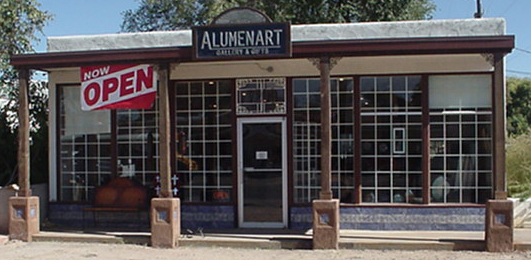 Our Story: Then and Now
Then
Tambrian has been creating high-quality jewelry, accessories, home decor and other items at affordable prices since 1983. We began working with silver, copper and pewter to using aluminum in the early 2000's, applying our creative instincts and technological savvy to navigate through market forces and continue to produce high quality beautiful products at affordable prices.
Tambrian, LLC was founded in Albuquerque in the early 1980s, and moved to its current location in Los Ranchos in the late 1990s. Alumenart Gallery opened in 2008 right in front of Tambrian, where all products are produced.
We have found our passion and now produce our work exclusively in aluminum and stainless steel using a unique multi-step process to deliver high quality lightweight pieces with a long lasting shine. Tambrian began selling wholesale, on consignment and visited many fantastic craft shows through our first 25 years in business. A few years after transitioning to aluminum we were able to open the doors to our public retail gallery Alumenart by Tambrian in 2008.
Alumenart by Tambrian provides a peaceful and welcoming atmosphere to guests while displaying a large selection of our many products and designs. Our line features earrings, neckware, bracelets, home décor items, such as Christmas ornaments, wall hangings and night lights. Tambrian also crafts unique yard art, from wind spinners to sculptures, all using recycled scrap metals and other various materials.
Tambrian has created a large collection of designs over the years, featuring over 400 earring styles alone! And our owners comtinue to design, coming up with new designs anytime inspiration strikes. Alumenart rotates through all of these styles and products weekly, so you'll discover something you haven't yet seen before with every visit.
Wholesalers welcome- email tambrian@swcp.com for more information.